About The Gold Standard GAMSAT Prep
Incorporated in 1991, the Gold Standard (GS) was founded by Dr. Brett Ferdinand, M.D. - who scored in the 99th percentile in the Medical College Admission Test (MCAT) and who has published MCAT books and developed multimedia learning materials. Surprisingly, in the late 1990's/2000's some GS MCAT books, videos and practice tests found their way to Australia being used as a non-specific preparation for the GAMSAT. While on vacation in Australia in 2009, Dr. Ferdinand was invited to give his opinion on how to prepare for the GAMSAT before an undergraduate science student group at the University of Sydney. The warm reception served as a catalyst to assemble a team of university professors, arts/science and medical degree graduates to create the first textbook to be published for the GAMSAT: The Gold Standard GAMSAT.
As a team, we continuously study the GAMSAT and conduct research and surveys in order to create the most helpful and representative GAMSAT revision materials available. Through our videos and live courses, GAMSAT students have found that we can teach in a way as to make challenging concepts easier to understand. The purpose of our multimedia approach - textbook, video, mp3s, apps, online materials, etc. - is adaptability. We understand that students learn differently and have varied academic backgrounds. We make tools available so that you can choose to learn according to the way you learn best.
The Gold Standard GAMSAT is the first GAMSAT textbook ever written. This meant that for the first time ever, students need not 'gamble' on GAMSAT preparation. They could walk into their university bookshop and browse, read and decide.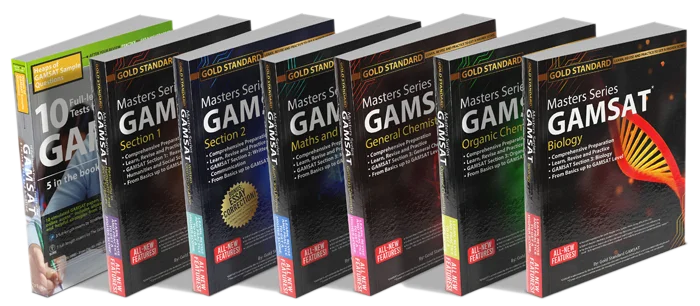 We are also the first to bring problem-based learning - the current method of teaching at most medical schools worldwide - to GAMSAT teaching at campuses in Australia, Ireland and the UK. Using GAMSAT-style practice questions and keeping everyone in the class involved - irrespective of academic background - optimizes the learning experience for everyone.
We are the first and only company that has a complete playlist of the Section 3 worked solutions to all of ACER's GAMSAT booklets, viewable for free on YouTube. In what is simply unprecedented, we produced more than 100 free educational GAMSAT videos with helpful step by step explanations, available to all.
The Gold Standard GAMSAT is the first to offer GAMSAT Flashcard Apps for Android and iPhone, science review videos (both online and DVDs), MP3s, interactive online practice tests with scaled scores, live free monthly webinars, free GAMSAT Question of the Day, and still, there will be more 'firsts' to come.
After 4 years in publication, The Gold Standard GAMSAT textbook won its first International Book Award in Reference/Education. There was no question of resting there. Our new 2016-2017 edition has hundreds of more pages, hundreds of more practice questions and more online features. We never just reprint a book and claim that it's "a new edition". Likewise we are also moving forward with new content for our GAMSAT videos, flashcards and apps.
It's not just about study materials, it's also about customer service. We have live online customer support as well as email support - learn@gamsat-prep.com. We also have regional phone contact centers to follow up purchases in Australia (612-8005-0922), Europe (44-845-458-9911), and North America (1-866-333-3138). If something went wrong with an item that you bought from us, we are available during business hours to answer your concern. We can also receive queries through our GAMSAT-prep Facebook page. Of course, if you have study questions, our GAMSAT Forum is a great venue to post so you are not left in the dark with any aspect of your review.
Watch our videos, try our practice questions with explanations, listen to the experiences of students who have attended our live courses or used our online materials, read student Gold Standard GAMSAT reviews/testimonials. This is how you can learn what we can do for you. Because of the quality, breadth and availability of our resources, both free and fee-based, sooner or later nearly all GAMSAT students will use something that we created to help improve their GAMSAT score. Make it sooner.
Distribution in Australia, NZ & Asia
Woodslane Pty Ltd
10 Apollo Street Warriewood
NSW 2102 Australia
ABN: 76 003 677 549
Product shipments: +612 8445 2300
GAMSAT Courses: +612 8005 0922
learn@gamsat-prep.com
Distribution in Europe
Central Books
99 Wallis Road
LONDON,
E9 5LN
United Kingdom
Ship/track: +44 20 8525 8800
Alt phone: +44-845-458-9911
orders@centralbooks.com
Distribution in North America
GAMSAT Prep/RuveneCo
334 Cornelia Street 559 #
Plattsburgh, New York
12901, USA
Courses/ship: 1(866) 333-3138
buy@gamsatbooks.com
Helpful Links